1.8M Pre-lit Hinged Christmas Tree with Memory Function & LED Lights - Costway
Special Price
$151.95
RRP
$217.99
-30% OFF
Get more discounts
Check Now
Enjoy a joyful new year with our hinged Christmas tree!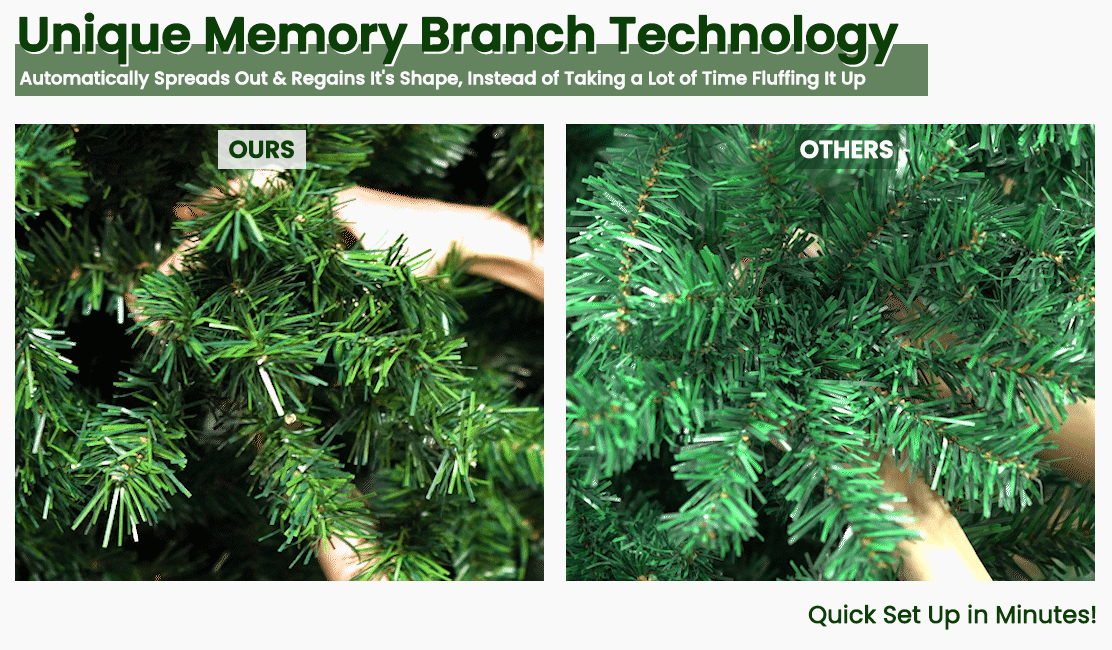 Enjoy a joyful new year with our hinged Christmas tree!
Are you looking for a Christmas tree as the new year is coming? Our 1.8M Christmas tree comes with 260 coloured lights that will surely get the attention of your guests. Moreover, the adapter is SAA approved and can be used with confidence. Besides, this Christmas tree has a full and realistic look with 666 dense branch tips and an enhanced tree top, creating room for you to add your favourite rite decorations. Most importantly, our hinged Christmas tree has a memory mode to help you quickly get a perfect Christmas decoration without having to fluff the tree manually. And to avoid hurting your hands during installation, we also provide two pairs of gloves so you can enjoy the hands-on fun with your family! Made of flame-retardaodourlessless PVC and supported by a foldable metal base, our Christmas tree will bring you vividness stably for a long time!
Bullet Point:
Upgraded Hinged System: Unlike other hinged Christmas trees, our tree features upgraded craftsmanship with a memory function, the leaves of the tree will spread out automatically within minutes, giving you more time to dress up the tree. And we have thoughtfully prepared two pairs of gloves for you and your family to enjoy the installation together.
Bushy & Vivid Appearance: The fully fluffy artificial Christmas tree is equipped with an enhanced tree top and 666 dense branch tips that provide a realistic and vivid look. And these branches are not easily deformed, making them perfect for adding some extra ornaments to decorate the tree.
Colourful Visual feast: This 1.8M hinged Christmas tree is equipped with 260 LED lights in blue, yellow, red and green to brighten up your space and enhance the festival ambience, which will bring a fantastic light show to your home, party, office, and a colourful holiday for your guests and family.
Premium PVC Material: Our artificial Christmas tree is made of 100% new PVC, which has excellent fireproof performance and can be used safely. In addition, the Christmas tree is odourless, not easy to fade and reusable, which is easy to maintain and will bring you more lasting vitality.
Stable & Foldable Base: The Christmas tree has a cross-shaped metal base with non-slip feet to prevent the tall Christmas tree from wobbling or toppling over. In addition, the Christmas tree's 3 detachable tree sections and foldable base are easy to store in narrow spaces for future use.
Features:
A hinged system with a memory function does not require manual fluffing
666 dense branch tips show vividness and full appearance
Made of premium PVC which is flame-retardant and harmless
260 pre-strung colourful LED lights enhance the festival vibe
Reinforced treetop is perfect for hanging other ornaments
The foldable metal stand helps support the 1.8M Christmas tree stably
Easy to be detached into 3 sections for easy storage
Two pairs of gloves to protect you during the assembly
Eye-catching holiday decor in home, office, bar, etc
Equipped with SAA certification for safe use
Specifications:
Colour: Green
Material: PVC, Metal
Tree Height: 180cm
Tree Width: 96cm
Diameter of Metal Stand: 45cm
Number of Branch Tips: 666
Number of LED Lights: 260
Number of Sections: 3
Net Weight: 7 kg
Package Includes:
1 x Pre-lit Christmas Tree
2 x pairs of Gloves
1 x User Guide
More Coupons
The special offer product cannot be combined with any other discounts.
Sign up and Subscribe now to Get Coupons Below
Shop Our Monthly Deals with
Extra 10% OFF