2640W 3-In-1 Mobile Air Conditioner with Fan & Dehumidifier & Remote - Costway
Special Price
$395.95
RRP
$565.99
-30% OFF
Clearance
Get more discounts
Check Now
This 2640W portable air conditioner can deliver strong, clean and fresh cooling air for rooms up to 15-30㎡, suitable for living room, bedroom, office.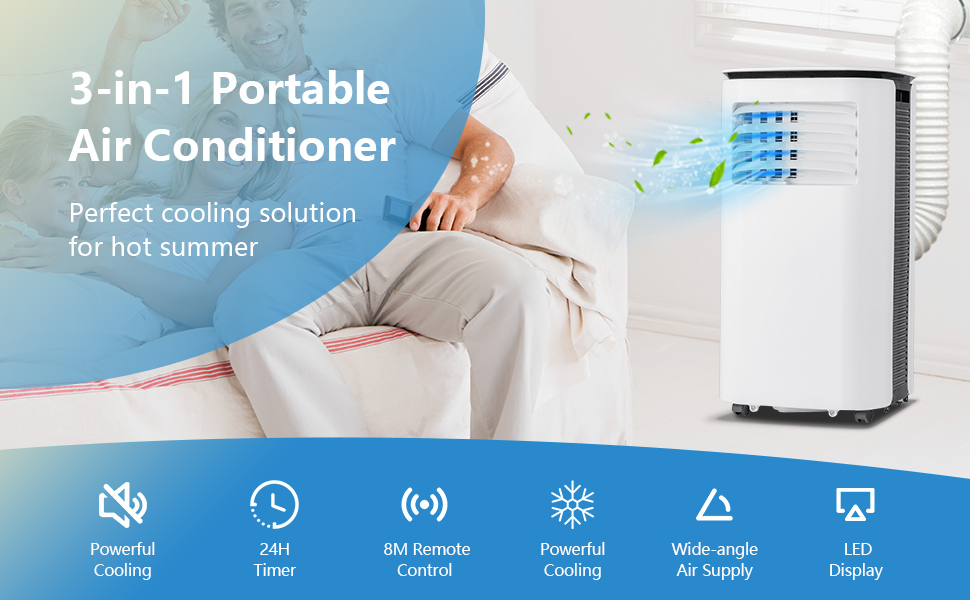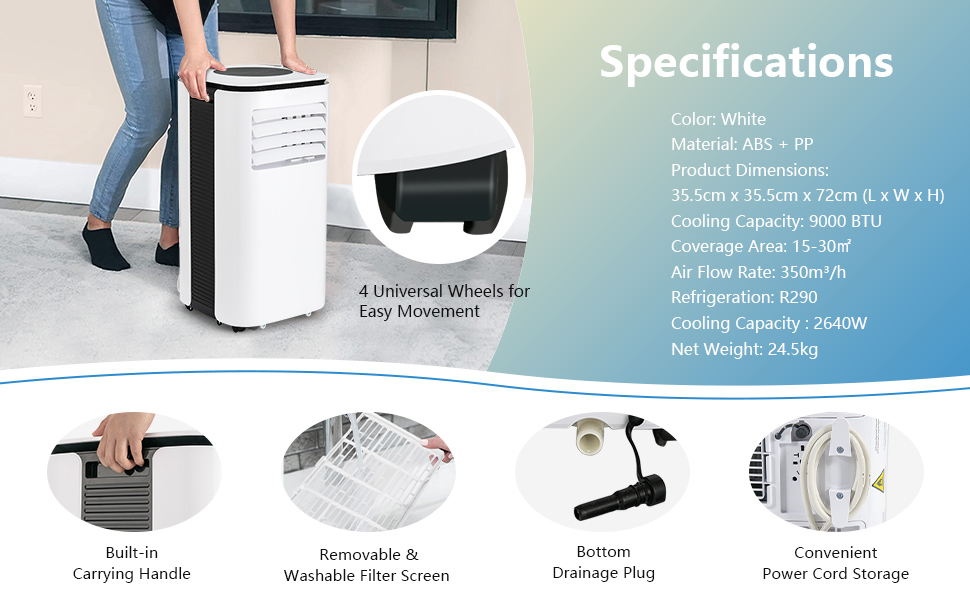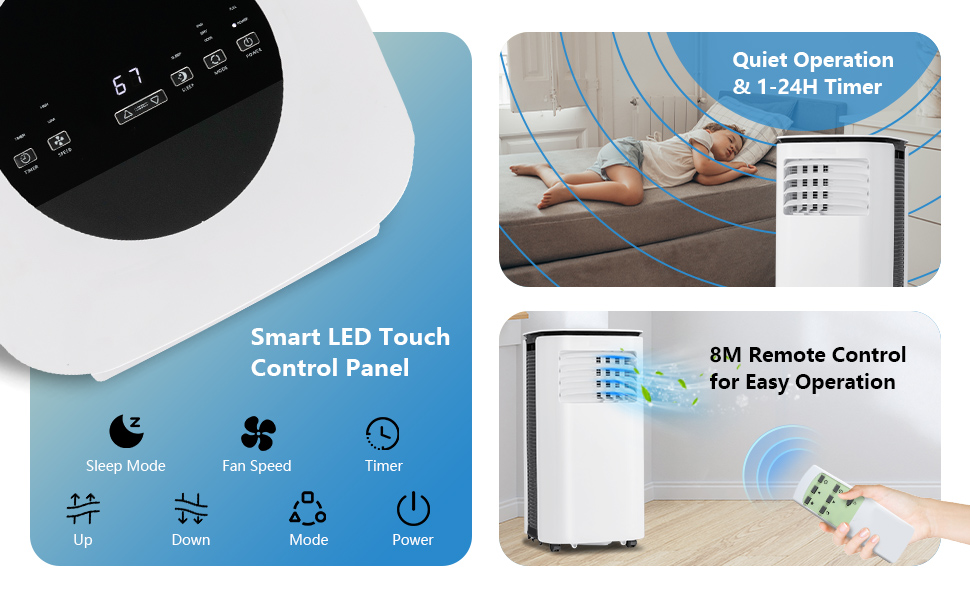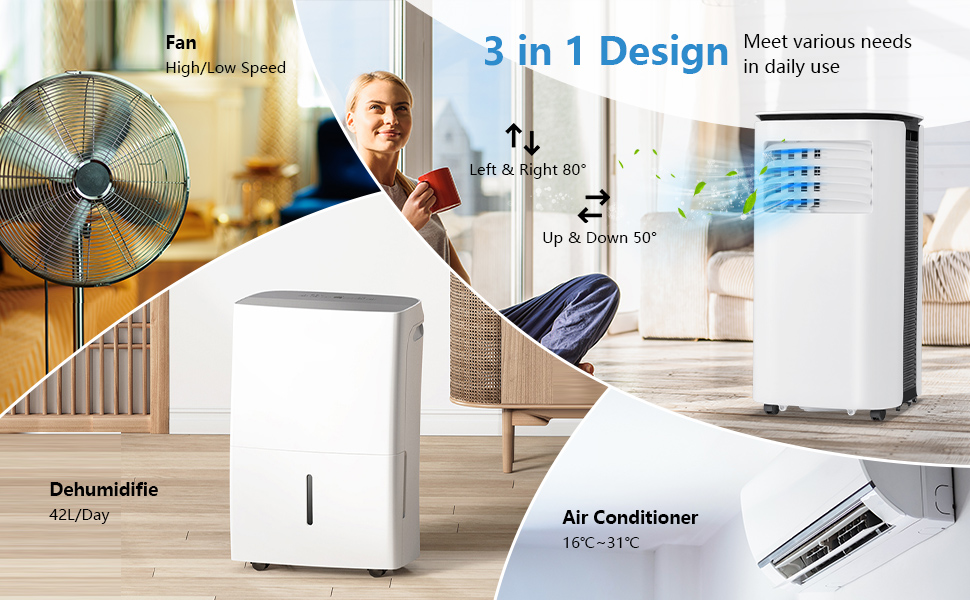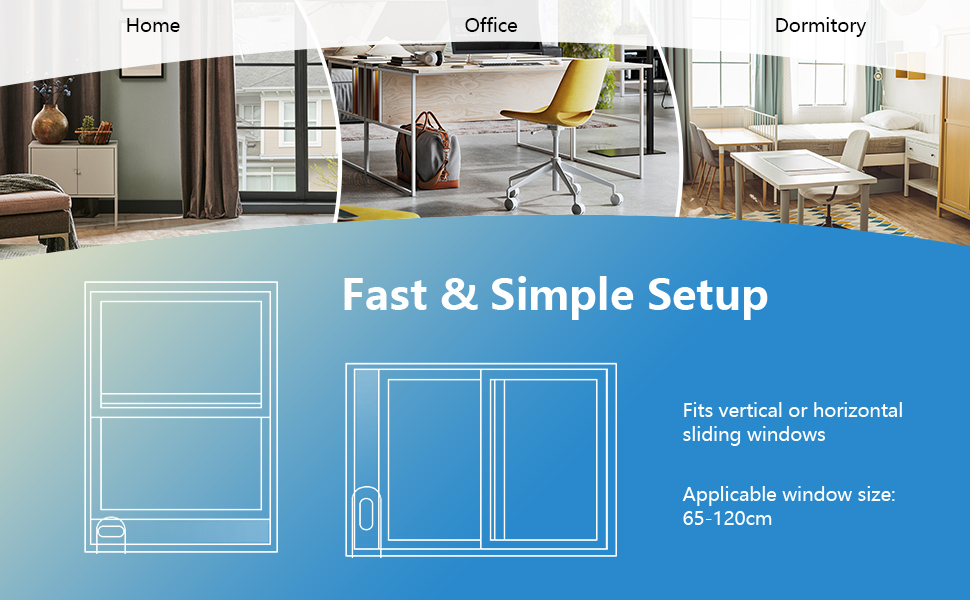 This 2640W portable air conditioner can deliver strong, clean and fresh cooling air for rooms up to 15-30㎡, suitable for living rooms, bedrooms, and offices. This multi-purpose 3-in-1 air conditioner quickly and easily improves cooling efficiency and maintains room temperature between 16℃ and 31℃. You can choose the desired mode among cooling, dehumidifying, and high and low-speed fan modes according to your needs. In addition, the quiet sleep mode and 1-24 hour timer allow you to enjoy a restful and comfortable sleep while also saving energy bills. This portable air conditioner can be easily controlled through the easy-to-use digital control panel or wireless remote. And the 4 rolling casters and built-in handles allow you to move the portable AC unit anywhere around your home.
Bullet Point:
Functional 3-In-1 Design: Designed with fan/cooling/dehumidifying mode all in one, this 3-in-1 air cooler will keep you cool all summer. In the dehumidifying mode, the air cooler is capable of removing 42L of moisture per day, ideal for muggy weather. The fan mode is available in 2-speed settings for customized airflow.
Efficient Cooling & Adjustable Wind Direction: 9,000 BTU/2640W high cooling capacity and 350m³/h large airflow, this powerful air cooler delivers fast, steady coolness for medium rooms up to 15-30㎡. Besides, the automatic horizontal louvre and manual vertical louvre can swing at a wide angle, blowing cool air to every corner of your room.
Low Noise Sleep Mode & 24H Timer: The air cooling fan features smart sleep mode, which works in low noise(≤ 55dB) to give you a peaceful and sound sleep night. The sleep mode focuses on energy-efficient cooling by gradually reducing the fan speed until it switches off. What's more, you can set the auto-off timer from 1-24 hours, no need to get out of bed to turn it off.
Easy Move Around& Washable Filter: Equipped with four rolling casters and a recessed handle, this portable air cooler is easy to relocate from room to room, ideal for home, dorm, office, etc. For easy cleaning and maintenance, the filter screens are removable and washable for an extended lifespan, reducing dust and providing clean, fresh air.
Fast Installation & Easy Operation: The included easy-to-install window venting kit is adjustable in length to fit most sash windows or hung sash windows (suitable size: 65-120cm). Moreover, the air conditioner unit features an easy-to-read LED control panel and a convenient remote for you to set over time, temperature and mode easily.
Features:
Powerful 2640W cooling capacity quickly cools down an area of 15-30㎡
With cooling, dehumidifier and fan functions all in one for optimal comfort
2 fan speed settings(high/low) with large airflow 350m³/h
Quiet sleep mode and customized 24H timer offer a restful night's sleep
Dehumidify mode optimizes moisture removal of 42L/day
Adjustable window kit matches horizontal or vertical windows
LED digital control panel and remote control for easy operation   
Removable and washable filter screens keep the air flow fresh and clean
Auto defrosting function and overflow protection for safe use
Portable design with handle for easy relocation, ideal for home, and dorm use
Easy to set up with the adjustable window kit and clear instruction
Specifications:
Colour: White
Material: ABS + PP
Product Dimensions: 35.5cm x 35.5cm x 72cm
Cooling Capacity: 2640W 
Air Flow Rate: 350m³/h
Dehumidifying Capacity: 42 L/Day
Temperature Setting Range: 16℃~31℃
Rated Power: 1010 W
Refrigeration: R290
Timer: 1-24 Hours
Fan Speed: High/Low
Noise: ≤55dB
Exhaust Hose Length: 26.5cm-150cm
Diameter of Exhaust Hose: 15cm
Exhaust Water Pipe Length: 60cm
Diameter of Exhaust Water Pipe:10mm
Suitable Window Size: 65-120cm
Power Cord Length: 180 cm
Net Weight: 24.5kg
Package Includes:
1 x Portable Air Conditioner
1 x Exhaust Hose
1 x Exhaust Water Pipe
1 x Hose Connector
1 x Window Kit
1 x Remote Control
1 x User Guide
More Coupons
The special offer product cannot be combined with any other discounts.
Sign up and Subscribe now to Get Coupons Below
Shop Our Monthly Deals with
Extra 10% OFF