Sideboard Buffet Storage Cabinet with Adjustable Shelf - Costway
Availability : Out of stock
Only %1 left
Get more discounts
Check Now
Crafted with MDF board, this storage cabinet is sturdy and reliable for long service time.
Get more discounts
Check Now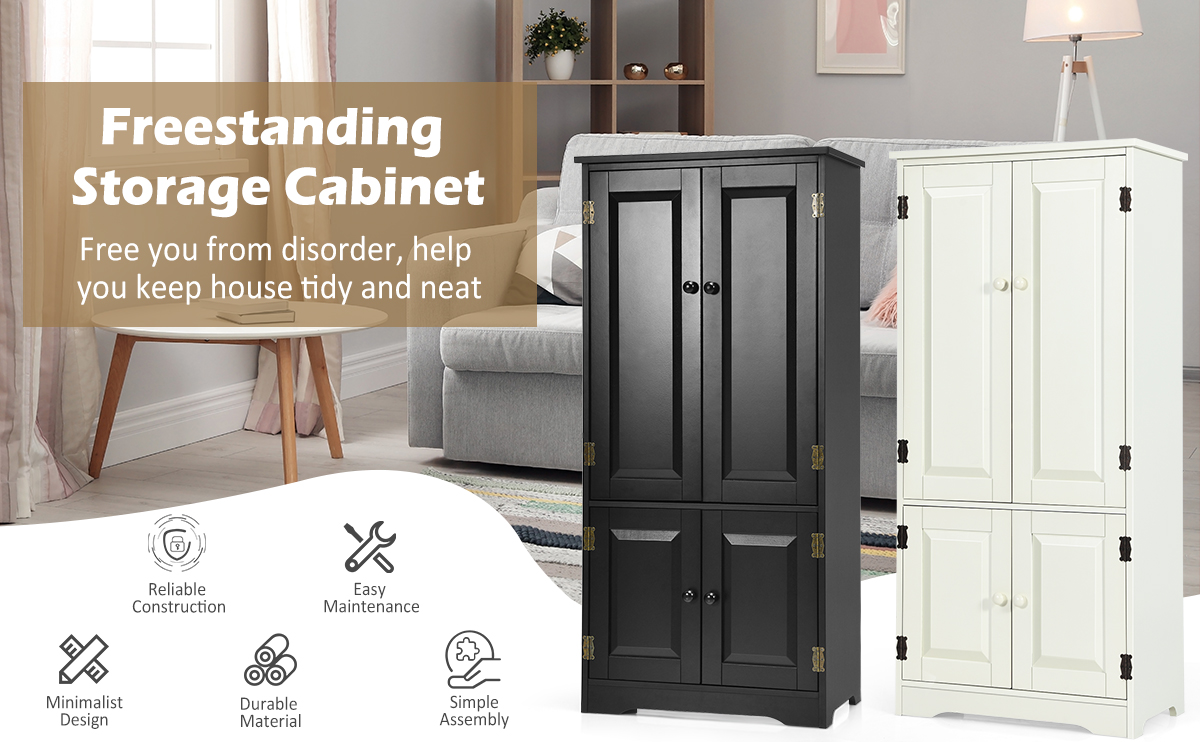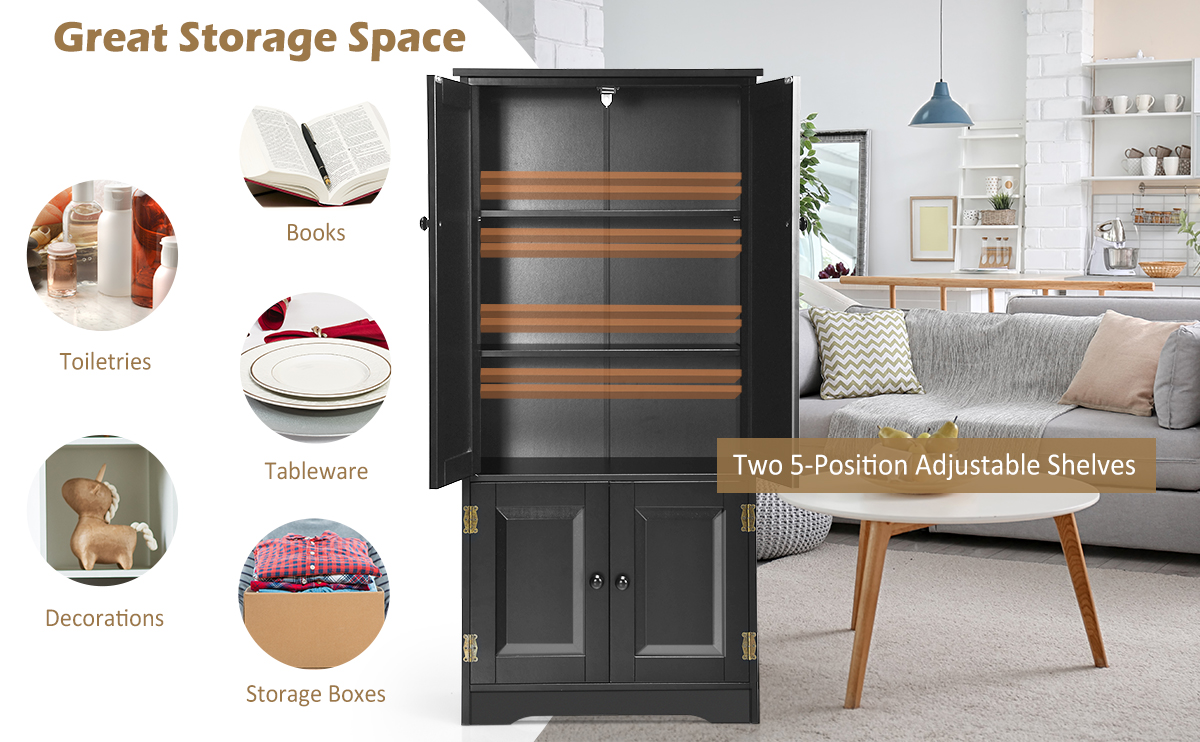 Have you found a favoured floor cabinet to own a tidy and clean room? Our storage cabinet would be one of the appropriate choices for you. Crafted with MDF board, this storage cabinet is sturdy and reliable for long service time. 4 large cabinets provide ample storage space to place items. The 5-position adjustable shelves greatly satisfy your needs to store different-sized stuff. Besides, the anti-toppling device adds additional stability and four raised feet make the cabinet suitable for damp places. The antique and elegant design makes it ideal for various occasions, such as living room, bedroom, bathroom, etc.
Bullet Point:
Perfect Height for Convenience: With the size of 58.5cm x 31.5cm x 123cm, the floor cabinet brings much convenience to storing and fetching the items within reach. In addition, designed with the idea of flexible storage, the cabinet top is a perfect platform to display decorative plants or place daily items.
Large Cabinets with Sufficient Space: There are 4 large cabinets in total, providing concealed storage space for daily necessities. It is spacious enough to hold a variety of items, capable of catering to different needs. This well-designed floor cabinet is a perfect storage solution for any place.
Adjustable Inner Shelves: There are four cabinets in total to prevent stuff from dust and create a tidy room by keeping everything behind the door. Besides, 2 inner shelves can be freely adjusted but firmly fixed in 5 positions, which makes it easier to accommodate plenty of items of different heights.
Ultra Stable & Rugged Structure: Made of premium MDF with a solid connection, our storage cabinet is sturdy and durable for long-term use. Moreover, it comes with an anti-tilt screw which can tightly connect the cabinet to the wall, preventing accidental falling and enhancing its overall stability.
Antique Style & Wide Application: With its antique style and exquisite appearance, this floor cabinet adds a touch of elegance to your home and matches seamlessly with various room styles. It is a great mix of functionality and aesthetics which is suitable for the living room, bedroom, kitchen or any other space.
Features:
High-quality MDF ensures durability and long service life
Four large cabinets provide enough storage space
Adjustable inner shelf for storing things of different heights
A wide cabinet top with perfect height is easy to take out daily items
The anti-tippling device on the back of the cabinet enhances stability
The door with a round knob is convenient to open and close
The antique style matches well with different room styles
Ideal for bathroom, living room, bedroom, kitchen, etc
Specifications:
Colour: White/Black
Material: MDF
Overall dimension: 58.5cm(L) x 31.5cm(W) x 123cm(H)
Net weight: 23kg
Weight capacity of each shelf: 10kg
Package Includes:
1 x Floor Cabinet
1 x User Guide
More Coupons
The special offer product cannot be combined with any other discounts.
Sign up and Subscribe now to Get Coupons Below
Shop Our Monthly Deals with
Extra 10% OFF