7000 BTU/2050W Portable Air Conditioner with 2 Fan Speeds & 4 Casters - Costway
Special Price
$355.95
RRP
$508.99
-30% OFF
On Sale
$
Extra 10% off
Use Code:
SPRING23
Copy
Copied
See More
Get more discounts
Check Now
Enjoy a cool and fresh summer with our 3-in-1 2050W portable air conditioner!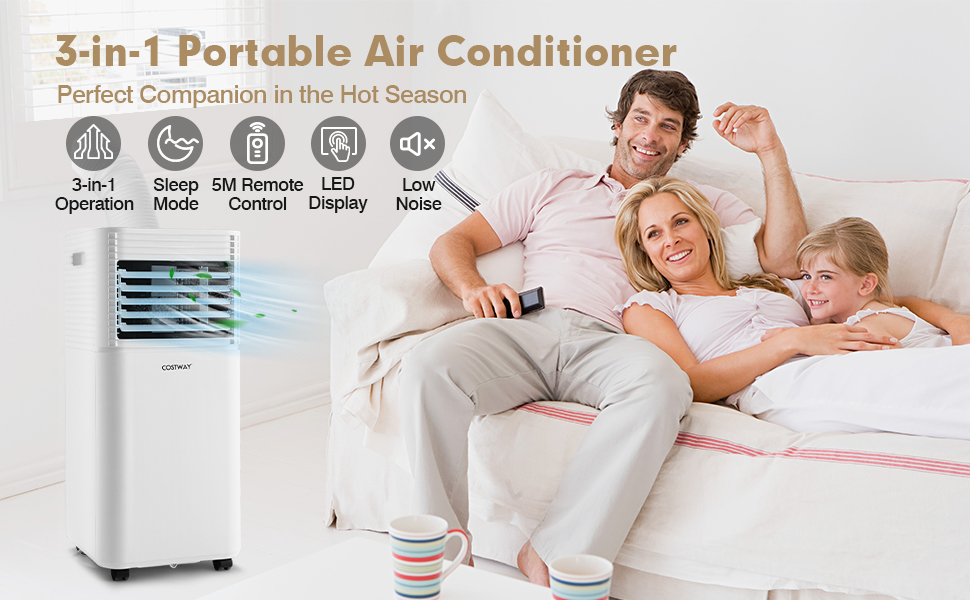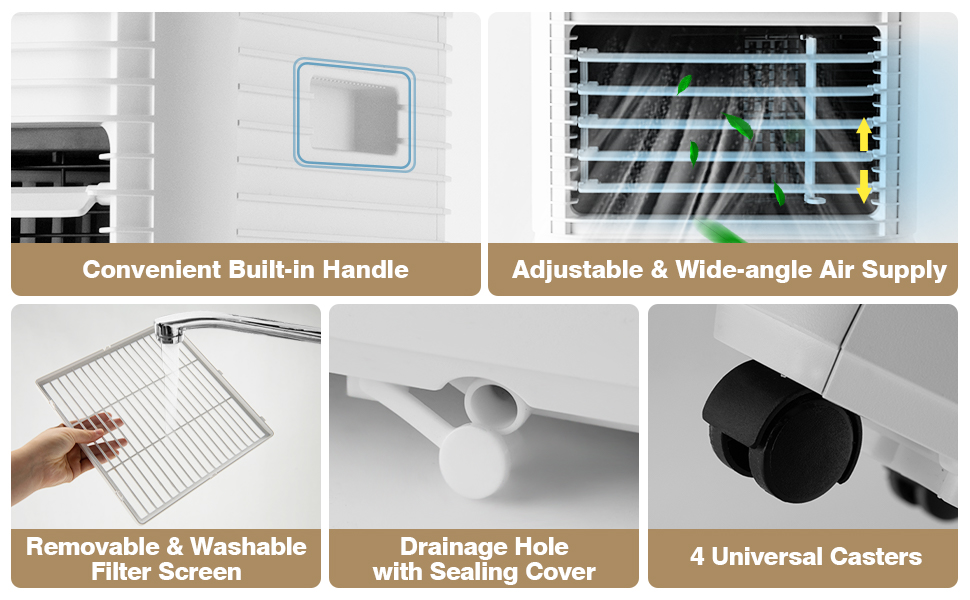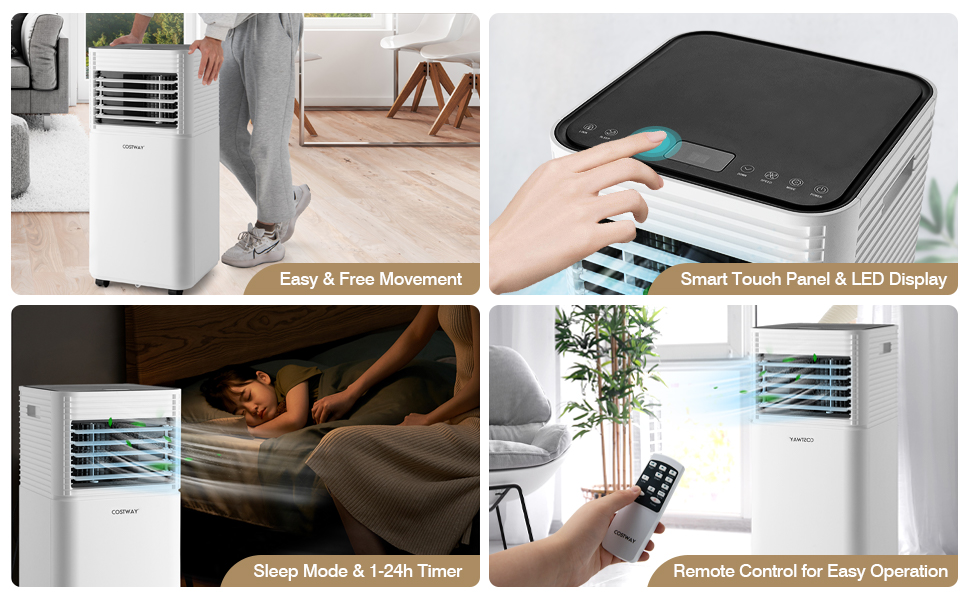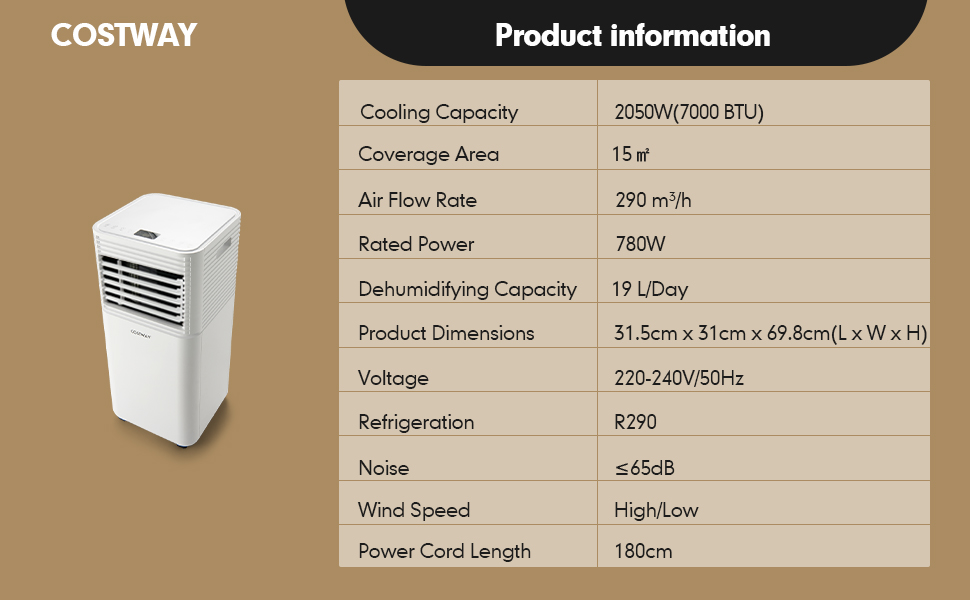 Enjoy a cool and fresh summer with our 3-in-1 2050W portable air conditioner!
The air conditioner with 3 different functions can be used as an air cooler, dehumidifier and fan. With a high cooling capacity of 7000 BTU, this AC unit can efficiently cool areas up to 15㎡, which is suitable for the bedroom, basement, apartment, kitchen, dormitory, office, garage, etc. In dehumidifier mode, it can remove up to 19L of moisture per day and in fan mode, it has 2 fan speeds for you to choose from. Our air conditioner is designed with a removable and washable filter screen to provide clean and cool air. You can easily adjust and check the settings with the remote control, touch panel, and LED display The safety child lock can effectively avoid the child from touching and causing danger. The 24-hour timer and quiet sleep mode can offer you a better sleep or work environment. In addition, the flexible casters and built-in handles make it easy to carry and move from room to room.
Bullet Point:
Fast Cooling & Washable Filter Screen: Equipped with 7000 BTU/2050W cooling power and 290 m³/h airflow, this portable air conditioner ensures a powerful cooling effect and can cool down an area of 15㎡. Besides, the air conditioner features a removable and washable filter screen to provide you and your family with fresh & clean air.
3-in-1 Multifunctional Design: This air conditioner has 3 modes to choose from - cooling, dehumidifying and fan, which can perfectly meet different needs. WiA 19L moisture removal capacity per day keeps your room cool and dry. Besides, in fan mode, you can set the fan speed to high or low according to your needs.
Enjoy Peaceful & Comfortable Sleep: The low-noise sleep mode will ensure a quiet environment for you to sleep peacefully and comfortably at night. And the temperature will increase by 1℃ every hour to prevent you from getting cold. Moreover, you can set the auto-off time from 1 to 24 hours to save electricity bills.
Variable Wind Direction & Easy Installation: The wind direction can be easily changed by adjusting the shutter vertically and horizontally, allowing air distribution to cool the entire room with detailed instructions and a sliding window kit, the air conditioner is easy to install and suitable for various windows.
Simple Operation & Free Movement: The air conditioner comes with a clear LED digital control panel and handy remote control, making it easy to change and check settings. What's more, 4 universal wheels and built-in handles allow you to move the air conditioner wherever you need, such as the bedroom, living room, kitchen, office, etc.
Features:
2050W high cooling capacity can cool down an area of 15㎡ quickly
Quiet sleep mode and smart 24-hour timer function for a good sleeping experience
Louvre can be manually adjusted up & down 70°, 30° to the right, 20° to the left
Multifunctional to be used as an air cooler, dehumidifier and fan
RA removable and washable filter screen helps to improve air quality
Easy to operate with the handy remote control and smart touch panel
Cooling temperature can be set from 16-32℃ to meet different needs
4 universal casters and built-in handles make it easy to move around
Auto defrosting function and self-evaporating system for higher efficiency    
Auto shut off when tank full & auto restart in the event of a power outage
An adjustable window kit is included to match various windows
2 fan speeds of high/low for you to choose
Child safety lock prevents potential accidents
Specifications:
Colour: White
Material: ABS
Product Dimensions: 31.5cm x 31cm x 69.8cm
Cooling Capacity: 2050W(7000 BTU)
Coverage Area: 15㎡
Air Flow Rate: 290 m³/h
Voltage: 220-240V/50Hz
Dehumidifying Capacity: 19 L/Day
Temperature Setting Range: 16℃~32℃
Rated Power: 780 W
Refrigeration: R290
Timer: 1-24 Hours
Wind Speed: High / Low
Noise: ≤65dB
Exhaust Hose Length: 23.5 cm-157.5 cm
Exhaust Water Pipe Length:66 cm
Suitable Window Size:65-120cm
Power Cord Length:180 cm
Net Weight:21 kg
Package Includes:
1 x Portable Air Conditioner
1 x Exhaust Hose
1 x Exhaust Water Pipe
1 x Hose Connector
1 x Window Kit
1 x Remote Control
1 x User Guide
More Coupons
The special offer product cannot be combined with any other discounts.
Sign up and Subscribe now to Get Coupons Below
Shop Our Monthly Deals with
Extra 10% OFF